We carry out novice, existing and refresher crane training on all types of cranes: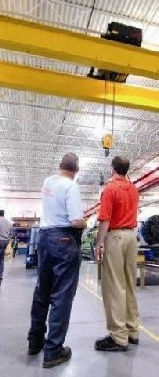 Overhead pendant and remote controlled bridge cranes

Gantry, pedestal and swing jib cranes
Our training includes training in the selection and correct use of slings and other lifting equipment in general use as well as specific attachments:
Vacuum lifters

Plate grabs

Plate Clamps

Spreader frames

Block grabs

Lift Magnets
We also carry out Slinger and Signaller courses to cover specifically the attachment and slinging of loads as well as directing crane operators in lifting operations.
Our training is conducted in accordance with LOLER (Lifting Equipment and Lifting Equipment Regualtions) 1998, PUWER (Provision and Use of Work Equipment Regulations) 1998 and in consultation with the guidelines laid down by LEEA (Lifting Equipment Engineers Association).
Course Content
The content of our crane training courses has been compiled in accordance with the Lifting Equipment Engineers Association (LEEA) Code of Practice for The Safe Use of Lifting Equipment and the relevant parts of BS7121: Code of Practice for the Safe Use of Cranes.
Our training courses cover the following areas:


Specific use for which the crane is intended

Correct methods of use with explanations regarding incorrect methods and dangerous practices

Recognition of the marking of equipment and its meaning together with an explanation of limitations

Daily check procedures for cranes

Pre lift checks including load, angle estimation and pre-use equipment checks

Correct methods of attaching the slings or attachments to the load hook

Lifting and lowering procedures including test lift procedures

Signalling techniques for assisted lifting operations

Possible faults arising from use and the appropriate withdrawal from service procedures

Procedures to be followed upon completion of the lifting operation

Correct care and storage methods of lifting equipment
At the end of the course each candidate receives an operators certificate of training for the appropriate type of crane used.
In addition to the basic crane training we can also cover training on general items of lifting equipment in use:
Flat Webbing Slings

Fibre Round Slings

Eyebolts

Shackles

Wire Rope Slings

Chain Slings

Shackles