We carry out novice, existing and refresher crane training on all types of cranes: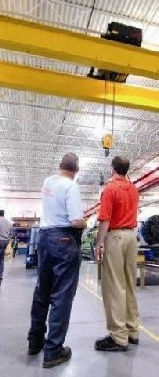 Overhead pendant and remote controlled cranes

Gantry, pedestal and swing jib cranes

HIAB and lorry loader cranes

Ship and dock cranes
Our training includes training in the selection and correct use of slings and other lifting equipment.
We also carry out Slinger and Signaller courses to cover specifically the attachment and slinging of loads as well as directing crane operators in lifting operations.
Our training is conducted in accordance with LOLER (Lifting Equipment and Lifting Equipment Regualtions) 1998, PUWER (Provision and Use of Work Equipment Regulations) 1998 and in consultation with the guidelines laid down by LEEA (Lifting Equipment Engineers Association).